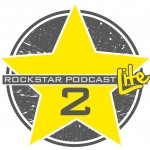 I was recently a guest on on the Rockstar Podcast Lite with host Lorenzo Araneo of Screaming Lunatic Multimedia, LLC.
Lorenzo and I had a pretty wide-ranging discussion covering everything from forklift safety training videos, to social media, to obscure bands from the '70's.
You can listen to or download the podcast from the Rockstar website: http://rockstarpodcast.com/rpl2/
Thanks for the opportunity Lorenzo!