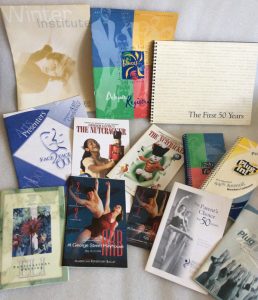 Over my career, I have had the great fortune to work with a number of extremely talented graphic designers to create marketing pieces for the companies I was employed by.
The photo to the left includes a sample of these pieces. In each case, I acted as copywriter, and art director, working to develop each piece. For the Association of Performing Arts Presenters and Environmental Law Institute pieces, I worked with the team at Apertures, Inc. in Sterling, VA. For pieces designed for American Repertory Ballet and ARB's Princeton Ballet School, I worked with the team at Prototype Marketing & Design, Inc., in South Plainfield, NJ.
In some cases, I also worked with the printing companies as the print buyer, and in a few cases, picked up the finished and delivered them to their final destination at the theatre, or mailhouse.